Paul J Yacich
              
     American Radio Relay League                                Naval Cryptologic Veterans Assn.
Amateur Radio
W5LLJ
Personal Information
QSL Card
QTH
Links
Times accessedsince 01/01/1996                                          AccessTime
          ______________WEB-COUNTER_________________                                       United States Naval Observatory Time          


Location: 30.022515 deg. Latitude, -90.10772 deg. Longitude
Grid Square: EM40WA
           7364 Beryl St.           Phone: 504-282-2384                                                                
           New Orleans, LA            Fax: 504-282-2384






Email address:pyacich@tulane.edu
Affiliated with PAUL YACICH PRODUCTIONS


Broadcast Arts Museum Of Greater New OrleansNaval Cryptologic Veterans Assn              

 
New Orleans Radio Theatre Tulane University Virtual New Orleans                                                     




American Radio Relay League          EarthView

LOVERS
(Applications from females over 21 years old now being accepted!)



Personal Information

Paul J. Yacich

I am an AMERICAN of Croatian descent. I was born September 25, 1927 in New Orleans, Louisiana. My paternal grandfather, Paul J. Yacich, came to New Orleans around 1875 from Supetar (Saint Peter) on the Dalmatian island of Brac in the Adriatic Sea. He operated an oyster lugger in the Gulf waters of Louisiana. My father, Frank J. Yacich, became the dative executor of a large estate. His brother, Chris J. Yacich, was a staff member of WWL in New Orleans and later was employed by the U.S. Corps of Engineers. Both my father and my uncle were song writers having had many of their tunes published. My father's "When There's Tears In The Eyes Of A Potato" and my uncle's "I Like Bananas (Because They Have No Bones)" were novelty songs recorded by the "Hoosier Hotshots." I intend to write a song about cucumbers to keep the family tradition alive!



I am a retired TV Producer/Director, having spent the better part of my career at WDSU-TV where I started in the broadcasting field as a technician in the engineering department. I joined WDSU in 1947 after serving two years during WWII as a Radio Officer in the Merchant Marine aboard C2 cargo ships, T2 tankers and Liberty ships. In 1950, during the Korean Conflict, I served in the U. S. Navy, in a branch of the Office of Naval Intelligence, stationed at Wahiawa, Oahu, TH. I returned to WDSU-TV in 1952.




I have had the honor and pleasure of directing two Emmy winning TV documentaries and many award winning commercials. In February of 1999 I was honored by the Louisiana Association of Broadcasters who awarded me their Lifetime Achievement Award. In July of 1999 I was inducted into the Greater New Orleans Broadcaster's Association's Hall of Fame. In September 2004 I was inducted into The Louisiana Hall Of Fame.




I was awarded my first Amateur Radio license in 1946 and have held the call letters W5LLJ continuously since then.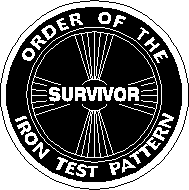 Admitted to The Order of The Iron Test Pattern with the dignity of BRIGADIER






I am also a hopelessly incurable netsurfing addict! HELP!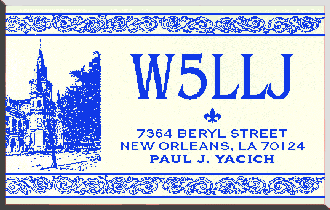 Always!
Designę1996: Yacich of New Orleans